We've been partnering with Isagenix for a few months now, and I know MrKimberly has not only lost nearly 30 pounds, he's also reduced his A1C levels (bringing him down from borderline diabetic to normal range!), increased his good cholesterol and decreased his bad cholesterol! I've personally seen both a reduction in my body fat percentage and new PR times on my runs! But, it's great to see so many others getting amazing results — and having these results published for the world to see.
Check out some of the stories featured in PEOPLE Magazine below. These Isagenix customers have lost half of their size! If you're looking to lose weight, be healthier, and have more energy — I suggest starting with the 30-Day System.
And, as always, Isagenix comes with a
30-day, no questions asked, money-back guarantee!
Losing half your weight is not an easy task. Isagenix Customers Robin Janes and Kenya LaShelle Elliot were recently featured in PEOPLE's "Half Their Size" issue, and both credit Isagenix with helping them transform their bodies. Learn how Robin lost over 200 pounds, how Kenya lost over 400 pounds, and what they do to keep the weight off!
Robin's Story
Ever since birth, Robin remembers being big. Once she reached her teens and twenties, the weight continued to pile on.
Janes realized she was at her highest point when she couldn't buy a scale that went up "high enough" for her. "I went to my friend's family business where they weigh huge industrial tubs," she recalls. "That's how I found out I was 450 lbs."
She hit rock bottom when she had to put her education on hold because she couldn't fit into the desk chairs at her university, where she was studying to become a teacher.
Robin was introduced to Isagenix by her best friend, and although she was a bit hesitant at first, she gave the IsaLean™ Shakes a try. Her skepticism quickly faded, and she ordered her first pak, started exercising, and changed her diet. The weight started melting off, and eventually, Robin lost over 280 pounds!
"I didn't have to think about how to cook a healthy meal while I was first starting out," she says. "I would have a shake and know that I was getting balanced nutrition. From there, I would learn how to cook healthy over time."
She incorporated activity slowly, going on short walks and swimming. Now, after losing 280 lbs., she plays volleyball, goes to the gym and — most importantly — has been able to continue working toward her education degree.
"I'm back in school. I can work anywhere. I'm not limited," she says. "I feel like before all the doors were closed for me. Now they're all open."
Kenya's Story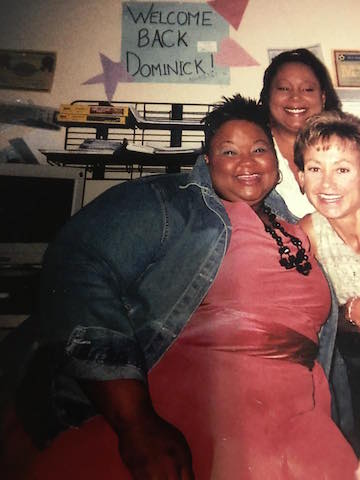 Kenya spent years numbing emotional pain with food, eating upwards of 20,000 calories a day. Her weight peaked at almost 600 pounds, and she was ready to give up. Things only got worse due to some serious health challenges, causing Kenya to have to restrict physical activity, leaving her confined to her bed almost 24 hours a day. She felt trapped, yet she continued to eat.
In 2014, Kenya was introduced to Isagenix by a friend from church and began to change her diet by replacing meals with IsaLean Shakes. She also started working on the mental and emotional issues that had haunted her for years. Kenya began to lose weight through her change in diet, and she was able to reintroduce physical activity to her life. Kenya's confidence was boosted, and she eventually lost over 400 pounds* and has kept the weight off ever since!
Recently, Kenya launched Project 1,000, a tool she created to inspire and change 1,000 lives within 90 days. She will be touring the country sharing her story and hopes to one day become an internationally renowned speaker. She is determined to increase people's knowledge about Isagenix and hopes to share the importance of Isagenix and the Isagenix lifestyle with people in her community, emphasizing that it's a solution that can help everyone, no matter where they are in life.
"I want to breathe life and inspiration back into other people," she says. "I want to make an impact."
Got to love how Kenya is making such a positive change in the world!